Welcome!
The Office began its activity in 1993. The founder is Evgeniy Delibaltov - attorney at law, who develops the activities of the office and gathers together a young and ambitious team whose collaboration continues to this day. In 2007 the lawyers working in the office founded Law Firm "Delibaltov, Milkova, Ivanova" which is registered under the Bar Act and includes a professional team of lawyers and assistants. The partners have successful careers in law for more than 10 years and their experience contributes to the development of the priorities of the Firm.
The Law Firm provides high-quality legal services in the
following areas of law: civil law, commercial law, property law,
contractual law, insurance law, labor law, family law, inheritance law,
administrative law, tax law.
We represent local and foreign individuals and legal entities in their corporate governance structures and investment activities, exercise of property rights and relations with municipal and state administrations. All our services can be provided at equal quality on Bulgarian, English and Russian languages.
To ensure optimal protection of the interests of our customers, we provide them expert legal advices and services related to document preparation, legal aid, mediation in negotiations and litigation before all Bulgarian courts and arbitration institutions.
Our desires and aspirations are to offer our customers comprehensive and competent service, loyalty, confidentiality and professional assistance in carrying out their activities and business plans. In our work we apply high ethical standards, combined with an individual approach to each client. We provide maximum protection of the interests of our clients and guarantee fast and efficient achieving of optimal results. Our legal advice is effective in terms of time and money. Our main task is always to provide the best solution in particular situations.
In order to provide qualitative and comprehensive service to our customers, we work in cooperation with notaries, bailiffs, accountants, consultants, associates, lawyers, companies and nongovernment organisations from across the country.
Our legal services are based on principles of high-quality legal services, professional liability, confidentiality, honesty and loyalty to clients.
Law Firm "Delibaltov, Milkova, Ivanova" is open for development and improvement of its team into new areas of law.
Aiming convenience for companies, as for their altogether activity, we offer a contract on a subscription basis. The full legal services to our customers provides them peace and security in solving problems by a specialist who knows the company in details and to whom they can rely on. Thus, against payment of a monthly subscription fee to a certain volume of legal services and additional payment made for the legal services ​​above this limit, subscribed clients receive immediate attention and legal services. Our customers who have concluded contracts for subscription services are guaranteed priority consideration and timely resolution of any further legal problems. This approach helps us to provide timely and competent legal assistance.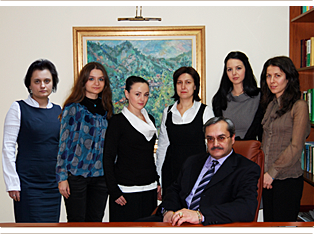 Law Firm"Delibaltov, Milkova, Ivanova"